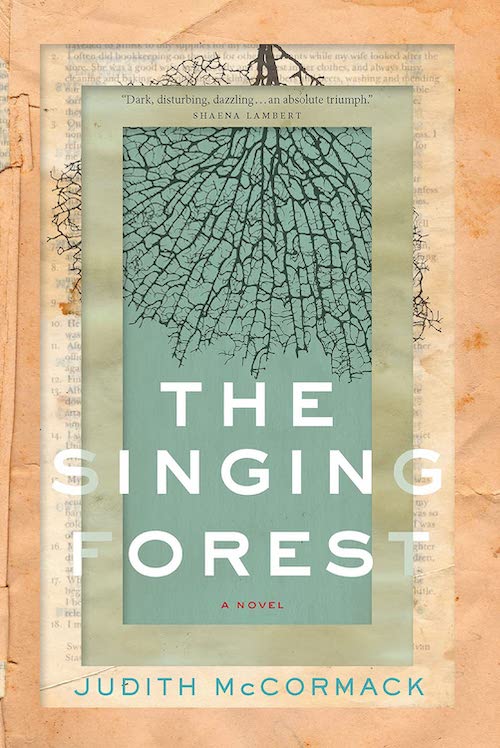 In a quiet forest in Belarus, two boys make a gruesome find that reveals a long-kept secret: the mass grave where Stalin's police buried thousands of murder victims in the 1930s. The results of the subsequent investigation—30,000 dead—has far-reaching effects, and across the Atlantic in Toronto, young lawyer Leah Jarvis finds herself tasked with an impossible case: the trial of elderly Stefan Drozd, a former member of Stalin's forces, who fled his crimes in Kurapaty for a new identity in Canada. Lyrical and wrenching by turns, The Singing Forest is a profound investigation of memory, truth, and the stories that tell us who we are.
Named one of the ten best historical novels of 2021 by the New York Times.
Praise for The Singing Forest
The Singing Forest blends thought-provoking reflections on the moral reckoning of war crimes with a warm, wry, almost Anne Tyler-esque depiction of a young woman's attempts to decode her eccentric professional and personal families … Leah's losses, her questions about her parents, are subtly contrasted with larger questions about truth and responsibility, especially when she flies off to conduct interviews in Minsk, "where facts had been malleable for so long, where they had become saleable commodities."

New York Times
Moving hypnotically between present events and two motherless childhoods — Jarvis's eccentric upbringing and the loveless brutality of Drozd's — McCormack pulls off a little miracle. For much of the novel, we care about the monster. All this she accomplishes in sentences that wrap themselves around you.

The Walrus
The novel's twin storylines — Jarvis explores pre-war Stalinist atrocities and her own family secrets — are beautifully written, and reach a profound and unsettling moral clarity as McCormack weighs what happens when, in her protagonist's words, "fragments of leftover history spill into the present."

Maclean's
Judith McCormack's The Singing Forest is probably the best Canadian novel, released this year, that you will read.

John Delacourt
A brilliant stroke … McCormack's scope is impressive. The Singing Forest is a crime drama, a historical novel, and a character-driven work … This novel posits that time does not heal all wounds. Recognition, reparation, and remembrance are urgent.

Quill & Quire
In this hypnotically layered novel, a young Jewish lawyer, Leah Jarvis, is assigned the case of Stefan Drozd, a nonagenarian war criminal facing deportation for acts he committed as a minor in Belarus. McCormack treats her characters with unnerving fairness, balancing terror with beauty, a brutal childhood with an odd and loving one, and somehow squeezing out of the reader sympathy for Drozd—until horror precludes it. Deeply intelligent and deeply moral, The Singing Forest shows that, like glass, truth is amorphous. It also makes the case that, though 'there is no general duty to rescue' in law, a family might save a child, as it did Leah. Or it may, like Drozd, make a monster of him.

Caroline Adderson, author of A History of Forgetting and A Russian Sister
Sometimes, as a reader, you put down a book in wonder, because you have been inside the mind of a deep and seeing writer, whose vision of the world is captivating, original and illuminating. Such a writer is Judith McCormack. In vibrant and nuanced language McCormack spirals us into the heart of a war criminal, and the brilliant lawyer who unravels the workings of his mind. Dark, disturbing, dazzling—this is an unflinching look at evil—and yet, and here is McCormack's genius, we emerge more whole. The Singing Forest is an absolute triumph!

Shaena Lambert, author of Petra and Oh, My Darling
Beautifully written … a really masterful job of weaving a story from present-day Toronto and then going back to pre-World War II Belarus.

Wendy McLeod MacKnight, on Shelagh Rogers' The Next Chapter.
The Kurapaty mass grave near Minsk, Belarus, was used to hide the bodies of thousands murdered by Stalin's secret police from 1937 to 1941 … searingly, as McCormack writes, there are the voices of the dead who cry out, 'We are here. We are waiting.' Know this history through your heart, through the empathetic imagination of McCormack's fiction.

Kim Echlin, author of The Disappeared
By its searing and ambiguous finale, this startlingly humane novel has made an indelible impression.

Michelle Schingler, The Foreword Review (Starred Review)
There is nothing bleak or drained of life in The Singing Forest, despite such harrowing scenes. The energy of the prose does not falter, transcending the expectations—if not the limitations—of a crime drama … the scope of McCormack's ambition is nothing less than a poetic meditation on the mutability of identity, and with The Singing Forest, she succeeds.

Ottawa Review of Books
McCormack brings her unique voice to this intriguing novel of difficult choices and moral reckoning. The way that McCormack weaves together Drozd and Leah's narratives makes for a compelling, nuanced and highly thoughtful read. At once a page-turner, an exploration of evil, and an inquiry into the possibilities of redemption.

Lori Feathers, Interabang Books (Dallas, TX)